Living with a Wonder Woman in Kefamenanu
Only a life lived for others is worth living
- Albert Einstein
Being a volunteer in social issue is my passion. Since 2011, I always joined voluntary program in any kind of activity. For me, volunteerism gives some energies, powers and giving back to the communities. So, here's my current volunteerism in Kefamenanu.
Last year, I followed Kopernik on Instagram. I saw some good projects there. I tried to join one of the projects, Digital Detox. I accepted the challenge. The program asked people to switch off all of the gadget for 24 hours because it was Nyepi Day. So, I joined and very impressed with Digital Detox. It's like a little step for good impact.
After that, I got information that Kopernik looked for 3 volunteers to live with Wonder Woman in NTT. The program was #IDWomen4Energy. Unfortunately, I couldn't join because of some reasons. So, I planned to join this program the following year.
In this year, I have resolution to be a volunteer in one social organization for a good cause. I'm not sure that #IDWomen4Energy will be held again in 2017. So, I decided to wait for another chance while focusing on my work in Gerakan Indonesia Diet Kantong Plastik (Plastic Bags Diet Movement).
But, a good news came to me. When I posted a picture on my Instagram, suddenly I saw the information about #IDWomen4Energy 2017. Without any doubt, I filled the form on the link directly. I thought it was enough. Apparently, I got email from Ina Septiono, that I had to create one minute video to tell about why I join this program and what kind of activities I will share to #IbuInspirasi/ Wonder Woman. So, I made a video as required.
After that, I posted not only a video, but also a picture on Instagram to show one inspirational woman that I adore the most with description. Kopernik will choose based on online video, online form and interview section.
What is #IDWomen4Energy?
#IDWomen4Energy is a public campaign from Kopernik to raise awareness about #IbuInspirasi in NTT who tries to be an agent of change by promoting energy technologies. Kopernik invites 3 volunteers to live with #IbuInspirasi and help them to socialize clean energy. #IbuInspirasi distributes information about energy access to people around her town in NTT province.
2 weeks later, on June 10, Kopernik announced 10 candidates and invited them to the interview section. Ina Saptiono as Communications Officer in Kopernik interviewed me by Skype. She wanted to know about what I will share to #IbuInspirasi and explored more about my personality based on my application. I was too excited at the interview session. I gave my best. And at the end, she told me that the interview was one of the assessment besides online video and photos. Finger crossed!
Finally, in the middle of June, I was selected as one of the #IDWomen4Energy volunteer. Thank you Kopernik!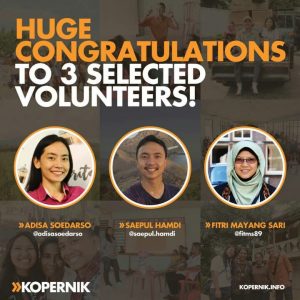 Yes! I'm so happy for being a volunteer in this program
Show More
Kefamenanu, I'm coming!
I've never been to NTT before, but 2 years ago I was involved in community which focused on several issues, especially in educational problem. So, I know the problem here is mostly about education and energy access. I was too excited to make an impact here.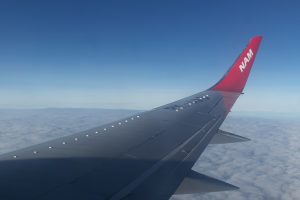 A beautiful sky for my journey
This program takes 10 days to live with Wonder Woman. There were 3 volunteers, me, Saepul Hamdi and Fitri Mayang Sari. Saepul Hamdi works in Greeneration Foundation. He is one of my office mates. Fitri Mayang Sari works in Ministry of Finance of Republic Indonesia. Each of us will live with one #IbuInspirasi in Kefamenanu and Atambua. Fitri and I stayed in Kefamenanu, while Saepul stayed in Atambua, 2 hours from Kefamenanu.
It started on 5th of July. Saepul and I departed to Kupang from Husein Sastranegara Airport in Bandung. We transited in Surabaya for 2 hours. We met Fitri on the plane. At 13.45 (Central Indonesian Time) we arrived in El Tari Airport, Kupang, East Nusa Tenggara.
We were greeted by Ina Saptiono from Kopernik, Nyimas Laula as professional photographer and Mr. Theo from Kopernik too. They made us very comfortable. We went to Kefamenanu and it took 5 hours from Kupang. Kefamenanu is a small town and a capital of the subdistrict North Central Timor Regency in East Nusa Tenggara. It has more than 40.000 citizen. Based on history, Kefamenanu has 3 authorities, which are Biboki, Insana and Miomafo.
At 8 p.m., we arrived at Detty's house in Kefamenanu, my hometown for the next 10 days. I call her Mama Detty, as its local name. After all, my journey as a volunteer had just begun
Maria Bernadette Amsikan or Mama Detty works as science teacher in Aurora Junior High School. It's her primary job. She has another job such as vocal teacher, a member of church choir and entrepreneur. She graduated from Universitas Timor in NTT in 2010. Before that, she was a housewife and opened a small shop in front of her house. She sold a lot of goods and daily needs. But, one day, her brother offered her to join Kopernik and handle some businesses. She agreed and thought that this would be a great opportunity to create better future for her family. So, she joined Kopernik since April 2015. She tried to break a status quo that woman couldn't be a business woman, instead of working as a housewife.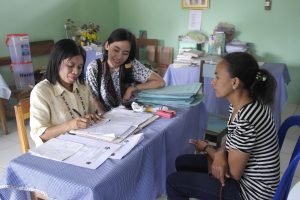 Accepted new students at school
In a simple way, I think that a woman who has a lot of works can't handle a lot of stuff altogether in one time. However, when I met Mama Detty, I see different perspective. She is very determined, attractive, humorist, and has passion to empower another woman to get a good access energy by selling clean technology.
Everyday, Mama Detty plans to arrange tech fair in Kefamenanu and i surrounding area. She calls her friend one by one. Do you believe that she can call her friends while she's cooking? Yes, she is a multi-tasking woman. She has a lot of things to do. So, she makes sure everything will be finished on time. It shows that women are better at multi-tasking.
Bapak Vinsen Ledo, her husband is a civil servant in Department of Education, Arts and Sport in Kefamenanu. He always supports Mama Detty in every step she takes. He often accompanies Mama Detty for promoting technology in several places. He is very proud of his wife.
Mama Detty starts the day at 4 a.m. First thing to do after waking up is pray to God. It's necessary for her to be grateful for all prosperity that she got with her family. Her daily activities are super tight. She must be cooking and preparing all family needs such as preparing uniform for her children and husband, preparing breakfast, and other needs for herself too. At 7 a.m., she goes to school to teach her pupils.
When I lived in Mama Detty's home, it was school holiday. So, Mama Detty could focus on technology fair full time and I could follow her everywhere she went. Every morning, I helped Mama Detty to prepare breakfast for us. I cooked rise, fried banana, fried cassava, making tea, and other foods.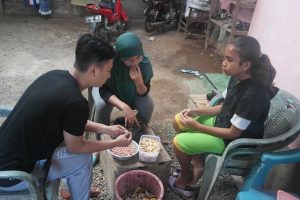 On my first day, Saepul, Fitri and Ati helped me to cook food for breakfast
In Kefa, all of the civil servants wear Tenun every Thursday as a scarf and saroong. It's compulsory by local government. It represents that NTT has a lot of culture and people must respect it by wearing this Tenun when they go to the office. Tenun is one of Indonesia masterpiece and cultural heritage. It's hand-made.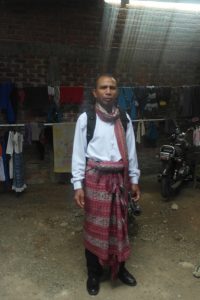 Bapak Vinsen was wearing Tenun (sarong) when he went to the office on Thursday.
Actually, Mama is not expert in marketing. She doesn't get any academic specifically in sales. But, with her willingness and persistence, she gets what she wants. She does it by self-taught. She tries to manage her time everyday without leaving her main task. I see Mama Detty as a self learner and fast learner.
In order to help her tech fair, to socialize clean technologies, i'm always asking lots of questions about the products. With her patience, she answered all my queries completely. By knowing all the descriptions, i can support Mama Detty for explaining products to her candidate users.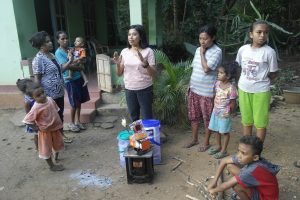 Technology fair at Nefomtasa, Tubuhue, Kefamenanu
On this programme, Kopernik made schedule ofvolunteers's activity for 11 days. We must follow all of the agenda. But, it wasn't strict. It was adjustable with Mama's daily activity.
She is enjoying her life very much. No matter how hard the obstacle is, she doesn't lose hope. Tech fair is one of her activities as a Wonder Woman. She goes around Kefamenanu to introduce clean technologies. Her husband accompanies her everywhere she goes to make people familiar and aware with the product. She's been through so many hard times. Sometimes, her tech fair doesn't give her any customer. But, she never gives up. For Mama Detty, tech fair isn't about getting lots of customer.. Tech fair is all about helping people to get access for a good life by utilizing health technologies. She never complains if after tech fair, she doesn't get customer. "There are so many people here who still need this technologies. I'm optimistic and believe that i can make an effort for it. So many opportunities out there. Don't be afraid", said Mama Detty.
Target mapping is one of the important things. She has limited time to promote. She distributes time into some parts. For school as a science teacher, at home as wife and mother, as an entrepreneur with her small shop, at church as singer, as a vocal teacher and of course as Kopernik's Wonder Woman. And she finishes her tasks perfectly. Can you imagine that?
Mama Detty doesn't lay down her tasks as Wonder Woman into side project. It's a significant mission. "I do it wholeheartedly", said Mama with teary eyes. So, Saturday and Sunday are the days that she can use for tech fair instead of staying at home. Mama Detty increasingly focused on making money and selling the product is legitimate ways for assisting others. Ignite her own light.
In March 2017, Mama Detty got a news from Kopernik that she would go to America for her achievement. But, there's no easy way to reach American Dream. The requirement was a video about her and Kopernik wanted Mama Detty to be a representative of Wonder Woman from Indonesia. So, Kopernik team took a video about Mama Detty's profile. In the middle of the interview, she got stuck. Kopernik team tried to convince Mama Detty that she deserved to get achievement because of her dedication. Mama Detty came up with some hopes.
In early April, Mama went to America with Ibu Regina from Kopernik. She followed this program with tight schedule. Leaving Kefamenanu to get appreciation in America was unpredictable moment for Mama Detty. She lived in Kefamenanu more than 40 years. And never expected to be one of the five heroes from all over the world for receiving award from Energia : international Network on Gender and Sustainable Energy.
She met another Wonder Woman from America Latin, Nepal and Africa who has dedication as good as Mama Detty's. They were speaking to each other, sharing experiences, connecting together and tying the long-term relationship. She has never been to America before. Never to imagine that selling the technologies could bring herself to the United States. She is being an outstanding and highly motivated Wonder Woman. She will give back this achievement to her communities in Kefamenanu and to be determined for persuading people to utilize this technology.
The reason why Mama got the appreciation because she exhibited a good performance during the past 2 years. So, Kopernik asked her to be one of the nominees and delegation from our country.
As an enthusiastic volunteer, i gave Mama some trainings. Basically, i work in environmental organization and some related area. And yes, you can guess what i shared with Mama at her house. I made a small workshop in the kitchen to educate Mama about waste management. I offered Mama to manage waste into two categories; organic and an-organic or dry waste and wet waste. It's crucial to have waste management in household. Mama was spending 5 hours for cooking in one day. She must be producing more organic waste rather than plastic. Therefore, i told her how to segregate it and asked Mama to provide 2 buckets with medium size. The buckets will be used as waste container. The first bucket was for organic and the other one for plastic, sachets and another unrecyclable materials.
Mama looked a bit surprised when listening to my message. She used to mix up organic with plastic. I said that wasn't a good thing. She can compost organic waste into fertilizer and use it as her livestock. Segregation is a solution. It needs process. So, she tried to apply my recommendation. "It was very useful", said Mama Detty.
I saw Mama always use plastic bags. She went to traditional market and grocery store for daily needs. The other day, i told Mama Detty and her family not to use plastic bags anymore when shopping. Because, it will end up on the oceans and pollute our environment. Mama asked me to tell them a few steps to reduce plastic bags. So, i conducted plastic bags workshop with Mama, Bapa, Ati, Ane, and Lalang as my audiences. I presented to them some foldable bags. The big size for Mama and Bapak and the small size for their children. They were very happy and started to "bring their own bags". Mission accomplished!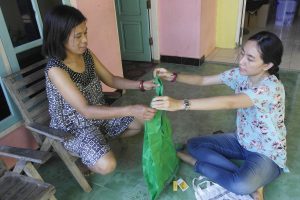 I did a plastic bag workshop for Mama. So, she is not using plastic bags anymore.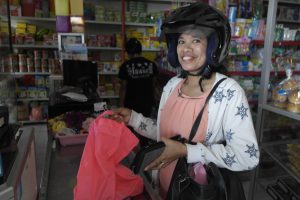 No more plastic bags for shopping
Mama and Bapak have lots of family. Each family has their own gathering. One day, Mama invited me to join Lembata gathering. It was regular monthly social gathering whose member were from Lembata and lived in Kefamenanu. I met another people from Lembata, Flores. One of them had visited Bandung and spoke like a Sundanese people. I felt like at home.
Playing with Ati and Ane was my happiness. They were very attractive and typically critical children. They seldom played a game on Mama's gadget even if they had a chance. We watched a soap opera on the television together. Sometimes, they served a buyer alternately. I helped them too.
Ane, the younger children of Mama Detty has a big curiosity. Ane always asked me thousand questions like a journalist. "Kakak Disa, how's Bandung? Is it cool or hot?", asked Ane to me non stop. I brought a camera and cellular phone to Kefamenanu to catch some memories. It intrigued him. He was asking my permission to use all my gadget. He was like a pro photographer. He took many pictures of me and my activities with Mama Detty. He is a clever boy. I love him.
Ane wants to be a soldier. For him, soldier is a national hero who has a muscular body. In the front yard, he pretended to be a soldier and shoot me as his rival. He built up a tree house too as his home so he could listen to songs and sing with Lalang. Lalang is Bapak's nephew from Lembata.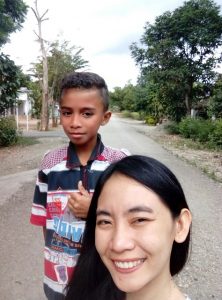 Selfie with ane
Mama Detty and Bapak Vincen are open-minded people. Discussing everything with them was a pleasure. Their kindness made me feel like they were my parents. They asked me about my religion. I told them that i'm Muslim. They were very tolerant. According to Muslims belief, we have five daily prayers and Friday prayers. They understood that i had to pray when the prayers time was coming.
I didn't get a culture shock. The atmosphere of Kefamenanu is similar to Bandung. It's full of humble people. They always give a greeting when meeting people. And as you know, Timor has a unique warm greeting. It's nose-touch greeting. I tried it when i visited Mama Detty's friend. "It's a local wisdom", said Bapak Vincen.
Their home was my comfortable place. It was so quite with no noise, full of trees and very cold. I thought Kefamenanu was hot. It was sunny but it wasn't hot. The temperature ranges from 22' C to 26 'C. Sitting in front of their home was my new hobby in there. I felt so sleepy.
Mama is a multi-talented woman. As a vocal teacher and member of vocal group in church, she plays guitar very well. She uses her spare time to play guitar and sing a song with her children. Potong Padi and Kuan Kefa are famous songs. She sings that song everytime as a reminder about where she comes from.
Mama is very eager to learn. It's almost 2 years since she joined Kopernik as Wonder Woman in 2015. She has more than 500 users. Her biggest dream this year is to get more customers. She hopes to lift up her life and gets lot of advantages by selling the products.
Mama's house is near NTT traditional house. It's my chance to visit this unique culture. They called it Lopo. Lopo is made by bamboo or grass. Houses are built to suit with the nature . It's determined by a rule related with its belief. Lopo doesn't have a wall to separate each room. It's very large and can be a meeting place because Lopo is a communal house.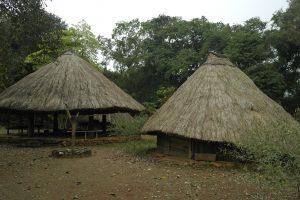 Lopo is a traditional house in Kefamenanu, NTT
Show More
Leaving Kefamenanu To Atambua
After 9 days living with Mama Detty, we went to Atambua for a short trip. Before that, we had a meeting with all volunteers and Wonder Woman. Unfortunately, Mama Regina as Saepul's Mama couldn't join because she got stomachache. Bang Theo and Ina evaluated this program to see the result of tech fair and a training workshop from volunteers. It took 2 hours with some good results
In the afternoon, we went to Atambua. I was so sad to leave Bapak, Ati, Lalang and Fania. They couldn't join because they had to finish some tasks at home. So, only Mama and Ane could join this trip.
It needed 2 hours to Atambua. I saw beautiful scenery along the road. I enjoyed this trip so much.
We arrived in Atambua at 7 p.m. and visited Mama Regina. She has got a tall body. Due to her illness, her face looked pale. And finally she met Mama Detty after a long time. Mama Regina was Mama Detty's friend. Both were teachers at same school. But, Mama Regina moved to Atambua and started a new life. They were very happy and be reminded of their togetherness.
Kopernik put Fulan Fehan as our last destination for a tour. It took around 2 hours to reach Fulan Fehan. Along the way, we saw a lot of beautiful scenery that we adore so much. There were so many hills with meandered road. I captured many views and didn't want to lose this expensive moment. Sadly, Mama Regina and Ane didn't enjoy the trip because they had trouble with their stomachace.
Fulan Fehan is well-known as a valley in the foot of Mount Laknaan about 26 km from Atambua. It has savannas. It's located in Belu regency. Fulan Fehan is very broad with many horses. Our eyes will be attached with its biodiversity. If you want to go to Fulan Fehan, you must prepare a scarf, jacket or sweater. It's not only cold but also has strong winds. But, it's very fresh and so natural. It was a really amazing landscape. Have you ever seen Microsoft's wallpaper? Yes, it looks like that.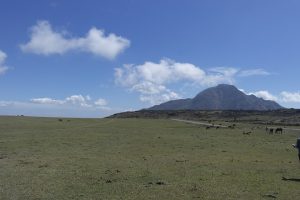 Fulan Fehan never regret you. A magnificent scenery.
Besides the beauty of its scenery, Fulan Fehan has historical story. Not far from our position, there is a Fort Ranu Hitu or we call it Fort Lapis Tujuh. We tried to reach it and hike to the top of this fort. We can see Belu and Timor Leste from the top. And there's sacred grave too. So, we must be careful and be responsible with our attitude.
As a tourism destination, Fulan Fehan is a wonderful place. Unfortunately, there are lots of garbage such as plastic bottles, sachet, etc. The travelers or visitors don't take their responsibility to protect this place. I didn't see rubbish bin. But, it doesn't mean that we can throw trash away randomly, right? I hope local government will make a regulation here as soon as possible with environmental include to protect local wisdom.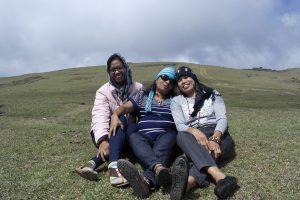 Our #IbuInspirasi in one frame
We returned to Belu and accompanied Mama Detty, Mama Regina and Mama Lisa to their home. This was a very touched moment. I said thank you to Mama Detty as my Wonder Woman for her kindness, responsibility and friendly personality to accept me as her volunteer. Ane cried and i tried to calm him down. I promised to keep contact with Mama Detty family. Good bye moments were very resentful.
In the afternoon, Fitri and I wanted to visit Indonesian Border near Timor Leste. So, we continued our journey with Bang Theo, Nyimas and Ina to Indonesian border in Motaain. It took 1 hour to get there. It was very big. Our president just launched this new building.. I saw sunset and Timor Leste only a few meters away.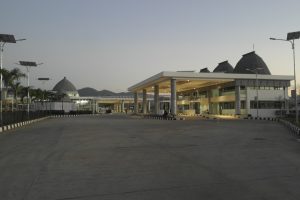 Indonesia's border at Mota'ain
We went back to Belu and met Fitri's friends who worked in Belu. We did hang out in a cafe.
On Saturday, we returned to Bandung. Finally, we finished the program. I will never forget this experience. We departed from Atambua Airport to Kupang at 9.00 a.m. In Kupang we transited 5 hours before taking off to Surabaya. We separated with Nyimas and Ina because their flight was to Bali. Saepul, Fitri, and I went to Djuanda, Surabaya. In Surabaya, Saepul and I waited for 2 hours for our last flight. Fitri went to Jakarta first. We arrived in Bandung at 9.00 p.m.
I always eager to join volunteering program. Being one of the volunteers in this #IDWoman4Energy was my blissfulness.
Thank you so much Kopernik.11 days is not enough for me. But, it gives me so many memories and experiences to learn. Thank you to Ms. Ina Saptiono as our communication guide; Mama Detty, Mama Regina and Mama Lisa as my Wonder Woman; Nyimas as our photographer; Bang Theo as my guide in Kefamenanu and Atambua. Thank you too for Saepul and Fitri–the volunteers– as my friend. I'm sorry if i couldn't mention everyone one by one. After all, i'm very grateful for what i have been done here. It might be imperfect, but i tried to make an impact.
This is my journey about volunteerism, especilally in #IDWomen4Energy program from Kopernik. I strongly recommend you to join this great campaign program. It won't disappoint you. My journey here was a life changing experience. I'm so grateful to live with Mama Detty. She's my second mother.
And here, i'm waiting for my next volunteer program
Regards,
Adisa Soedarso
Show More
Mama Detty, #IbuInspirasi Kopernik dari Kefamenanu, NTT