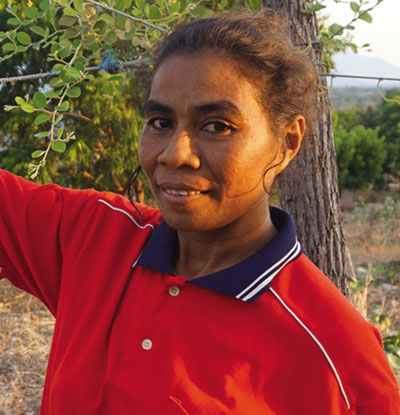 Rovina Surat, Lembata
| | | |
| --- | --- | --- |
| Name | : | Rofina Surat |
| Location | : | Beutaran village, Lembata |
| Has distributed | : | 193 units of technology |
| Has reached | : | 965 people |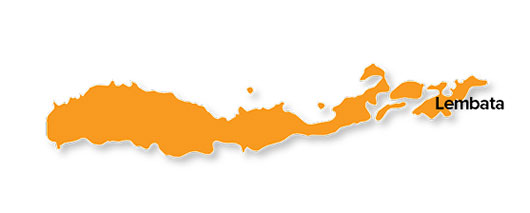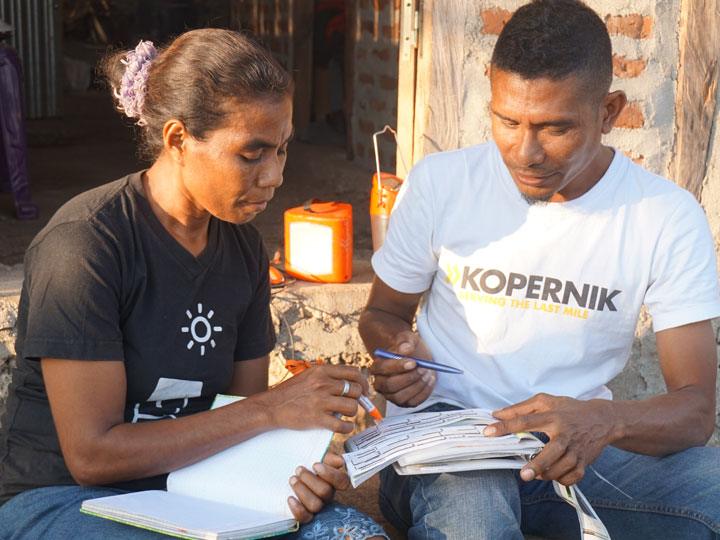 There's no motivation like a mother's desire to put a roof over her children's heads. And that is literally what mother-of-two Mama Rovina Surat was able to do after joining Kopernik's Wonder Women program in East Flores, Indonesia.
It's impossible to miss the pride shining in her eyes when she tells the story of how she built a home for herself and her two daughters on Lembata Island.
Mama Rovina's struggle as a single mother and breadwinner for her family began in 2012, when her then husband went to Malaysia in search of a better-paying job. Unfortunately, instead of receiving remittances, she received news that he had met and married someone else. Left to care for her daughters alone, she valiantly and resourcefully made ends meet through various creative ways: from renting out her old motorcycle to neighbours in need, to gathering honey from the forest, to skillfully using a traditional harpoon to hunt squid and sea cucumbers.
In 2013, Mama Rovina came to know Kopernik through PEKKA - our local partner in East Flores. She enthusiastically talks about her d.light S300 solar light, which she always carries with her when hunting for squid hunting before dawn.
"SQUIDS ARE ATTRACTED TO LIGHT," SHE EXPLAINED, "AND FELLOW HUNTERS SAW HOW I MANAGED TO FILL UP MY BUCKET QUICKLY WITH BIG FAT SQUIDS WITH THE HELP OF MY TRUSTY S300."
This demonstration of simple clean energy technology in action worked better than any big budget advertising campaign could have ever done, and Mama Rovina began to sell more and more technologies. Within a year and a half she had saved enough money to finish building her house.
"KOPERNIK," SHE SAYS, "PROVIDES SOLUTIONS NOT ONLY TO SAVE TIME OR MONEY, BUT ALSO TO SUSTAIN MY FAMILY'S LIVELIHOOD."
So, by the end of 2015, she had finally finished building her house!
The house is small and simple. Half of it is made of layers of bricks and cement, and the rest is made from simple bamboo weave. "Good for breathing and ventilation", said Mama Rovina, while pointing at the traditional weave. However, with no connection to a public power supply, Mama Rovina and her two daughters rely on a solar home system and solar lights from Kopernik for light.
SHE IS SUCH AN INSPIRATION, NOT JUST FOR HER DAUGHTERS, BUT ALSO FOR THE COMMUNITY IN HER VILLAGE. ONE OF THEM SAID, "I'M SO PROUD TO SEE MAMA ROVINA NOW. SHE HAS TRANSFORMED FROM A WEEPING WIDOW WITHOUT A HOUSE TO AN INSPIRING WOMAN IN OUR VILLAGE. THANKS TO HER AND THE SOLAR LIGHTS SHE SELLS, THE WHOLE VILLAGE DOESN'T HAVE TO LIVE IN COMPLETE DARKNESS ANYMORE".
Watch about Mama Rovina here.